How to Exhibit

Sales Brochure

Customer Service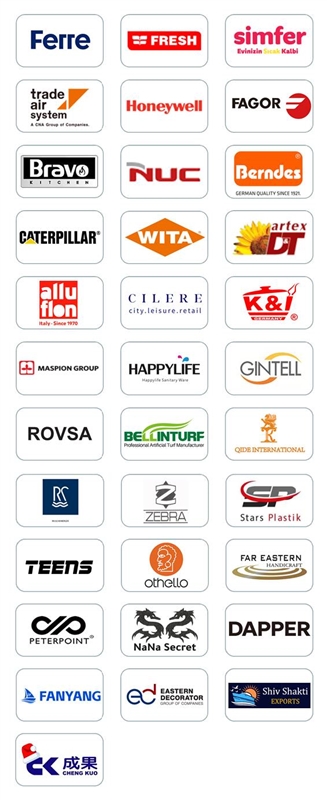 134th VIP Exhibitors
Introduction of VIP exhibitor service in International Pavilion
As the organizer of Canton Fair, China Foreign Trade Centre (CFTC) has been attaching great importance to customer service for years, constantly exploring the scientific exhibition mode, building a high-quality service system, and striving to make Canton Fair a world-class exhibition with specialization, marketization, internationalization and branding.
In order to improve the exhibition level of International Pavilion and further enhance the satisfaction of exhibitors, VIP exhibitor service for overseas important exhibitors and cooperative organizations has been established since the 117th session to provide personalized and in-depth value-added services for the loyal exhibitors with strong strength and large-scale booths.
How to become VIP exhibitor of International pavilion
Companies will be nominated as a VIP exhibitor if reaching following criteria:
-Exhibitors obtain no less than 8 booths in Phase 1, and no less than 6 booths in Phase 2 and 3 respectively.
-Exhibitors who have won the CF Award Gold, Silver, Best of the Best Awards, and Sustainability Award of Canton Fair will enjoy VIP exhibitor service for 2 sessions in 1 year in the following year of the award.
-Exhibitors should obey industry standards, friendly competition with counterparts and play exemplary roles in industry. Besides, exhibitors should support and cooperate with the related work of Canton Fair and have no violation records of relevant regulations in the past 3 years in Canton Fair. In addition, exhibitors should actively support and cooperate with important work of Canton Fair.
Statement:
Exhibitors who meet the above requirements will be entitled to VIP exhibitor treatment;
If the terms of service involve personal service, each VIP exhibitor can select 3-5 exhibitors' representatives to enjoy the relevant treatment;
The final interpretation of the qualification conditions for VIP exhibitors belongs to China Foreign Trade Centre.
Main service contents to VIP exhibitor
1. Exclusive Service with Vouchers
- Each VIP exhibitor will be issued 50 service coupons; each coupon serves as RMB 40 Yuan. [The service coupons can only be used during Canton Fair, and the scope of use includes business butlers, coffee and food outlets in the exhibition halls (except McDonald's), the Westin Hotel, and some of the onsite services at the exhibition. The service coupons are to be consumed within the usage rules negotiated between CFTC and cooperative merchant].

2. VIP tags and Prioritized Security Check
- 5 special VIP tags for each VIP exhibitor, which can be used at the security checkpoints of 1B, 1D, 8D and 10A of Canton Fair Complex to get priority security check.
- Priority on the Flyover Battery Train from the center of Area C in Areas A and B, and the Battery Train in the central passageway of Area D.
3. Service manual and promotional materials of Canton Fair
- Each VIP exhibitor will receive the VIP Exhibitor Service Manual with detailed introduction of various VIP exhibitor services.
- According to the production of promotional products of Canton Fair, Commemorative Badges and First Day Letter Cover will be distributed to each VIP exhibitor of the session.
4. Conference and Event Services
- Priority for participate in the Canton Fair new product release activities.
- Prior invitation for VIP exhibitors to participate in relevant economic forums and important seminars organized by Canton Fair.
- Under the same conditions, priority will be given to VIP exhibitors in booking meeting rooms in Canton Fair Complex.
- Reception room reservations, VIP exhibitors could make an appointment to use this service free of charge for a limited period of time. VIP exhibitors in need of this service please contact staff to make an application.
5. Information Release, Communication and Business Cooperation
- The list of VIP exhibitors in this session will be released on the official website of Canton Fair.
- Up-to-date news about business and trade exchanges and economic information in specific industries will be provided during Canton Fair.
6. Promotional display of exclusive preferential services
- Preferential prices for display activities in the middle platform of the exhibition hall.
- Discounted price for promotional displays such as guidebook ad pages, directory ad pages, etc.
7. Other Business Service
- Relying on other business resources of Canton Fair, various business service preferences are provided in the following aspects: venue booking, room reservation, shuttle buses, catering and other discounts in Westin Hotel of Canton Fair,etc.
- Business butler service, including the exhibition group business travel service, onsite agency service and personalized service,etc.